2018 Murgon Music Muster
The 2018 Murgon Music Muster held during the first week of November brought over 250 vans to camp at the Murgon Showgrounds.   
This special music festival was headlined by Golden Guitar Winner, Adam Harvey.  Other great performers who showcased their talents for the appreciative audience included Johanna Hemara, Graham Rodger, Brad Butcher, Amber Goldsmith, Heath Milner, Phoebe Jay, Brendan Radford, Rosanna Ruddick, Jack Viljoen, Chris & Viv Boys, Larry Cann, Robert Hopkins, Clyde Cameron, Stuart Watson, Clarrie Weller and Lillian Gray.    
The week-long event provided a great line up of country music artists, poets and walk-up artists.   
The major beneficiaries from the 2018 Muster were the Royal Flying Doctor Service, Blue Care South Burnett with funds being used to purchase an observation trolley and Southern Cross Care (Castra Retirement Home in Murgon) for the purchase of two Niki Pumps for pain relief for home palliative care.  
See below for a full list of Artist who performed at the 2018 Muster together with their photos and bios.
2018 Sponsorship & Donations
The Rotary Club of Murgon would like to thank the following Local Businesses for their Sponsorship & Donations to the 2018 Muster.   
GOLD SPONSORS 
Bendigo Bank, Nanango                                                                               Sellwood Constructions, Murgon 
Clifton Motors, Murgon                                                                                 South Burnett Regional Council 
Ergon Energy                                                                                                  Stanwell Corporation Limited, Nanango 
Remko Engineering, Murgon                                                                         Tajana Droughtmasters 
Ritemate Australia, Meadowbrook                                                                Teys Australia Murgon Pty Ltd, Murgon 
Riverina Stock Feeds, Murgon                                                                       The Country Dentist, Murgon
SILVER SPONSORS                                                                             
Cherbourg Aboriginal Council                                                                        Murgon Tyres & More 
Clovely Estate, Moffatdale                                                                              Praescius, Murgon 
Cornett's IGA, Murgon                                                                                     Pricebusters, Murgon 
Mark Smith Menswear, Murgon                                                                      Robinson's News and Gifts, Murgon 
Murgon & District Services Club                                                                    Qld National Pork Holdings, Murgon 
Murgon Betta Home Living                                                                             Wondai Electrical Services
BRONZE SPONSORS 
Country Fried Chicken, Murgon                                                                        Northern Agri Services, Murgon 
Crow FM Radio, Wondai                                                                                    Pest Options, Murgon 
Dennis Electrical, Murgon                                                                                Pratt Agencies, Murgon 
Hobbs & Associates, Wondai                                                                           Sanders Bobcat & Mini Ex Hire, Murgon 
Maroske's Tyre Service, Murgon                                                                      South Burnett Musical Comedy Society 
Moffatdale Ridge Winery, Murgon                                                                   The Coffee Bar, Murgon 
Murgon Golf Club                                                                                              The Tackle Box, Murgon 
Murgon Mitre 10             
OTHER SPONSORS 
Alicia's Spa & Hair Worx, Murgon                                                                    Murgon Real Estate 
Australian Hotel, Murgon                                                                                 Murgon Star Discounts 
Barambah Bush Caravan Park, Murgon                                                           Murgon State School 
Barry Bastardi, Eli Waters                                                                                 Murgon Visitor Information Centre 
Burnett Tyre & Mechanical Service, Murgon                                                   Nicol's Printing, Kingaroy
Café Murgon                                                                                                      Norco Rural, Murgon
Carneys Feed Store, Murgon                                                                            Pursers Coaches 
Country Mail Gifts/Post Office, Murgon                                                          Riya's Café & Restaurant, Murgon
Datawave Internet & Computers, Wondai                                                      Rocket Roadshow  
Dimities Cottage, Wondai                                                                                Rosemary Delemare, Murgon 
Doug and Sandra Farrawell                                                                              Royal Hotel, Murgon  
First Aid Instruction Service, Murgon                                                              Ryan Butchery, Wondai 
Greg Mitchell Plumbing, Murgon                                                                     Rob Walters   
Gough Plastics, Townsville                                                                                Struddy's Sports Store, Murgon 
Hotel Cecil, Wondai                                                                                           Sunflower Chinese Restaurant, Murgon 
Kingsley Grove Estate, Kingaroy                                                                       Supa Cheap Carpets, Murgon 
L'Salon, Murgon                                                                                                 The Murgon Butcher 
Mondee Coffee, Murgon                                                                                    Top of Town Meat Hall, Murgon 
Murgon Bakery                                                                                                   Wondai H Hardware 
Murgon City Motor Inn                                                                                       Wondai IGA 
Murgon Fruit Mart                                                                                              Wondai Mechanical 
Murgon Pizza Perfection                                                                                    Wondai Traders
On Behalf of The Rotary Club of Murgon and The Murgon Music Muster Committee we would like to extend our thanks to the above mentioned businesses for their support and commitment to making the Murgon Music Muster a success. 
Their generous contribution has helped shape this event into what you see here today. 
As we grow our Muster into the future, please support these local businesses who have supported us during your stay in our beautiful part of the world.      
Artists appearing at the 2018 Muster
 ADAM HARVEY
With a career spanning almost twenty years, over half a million album sales, gold and platinum albums and eight Golden Guitar Awards, Adam Harvey is one of Australia's most popular & enduring recording artists.
He has made some mighty fine records along the way: the staples "Both Sides Now", "Cowboy Dreams" and the recent "Family Life" are among them… and then there's the much loved collaboration with Troy Cassar-Daly "The Great Country Songbook". Now he can add one more to the list, "Harvey's Bar… The Backyard Sessions". 
Adam Harvey's deep, soulful voice is one of the great all-time voices of Australian country music and he is looking forward to coming to Murgon to share some songs and stories at the Murgon Music Muster in November.
GRAHAM RODGER
Graham Rodger is a very passionate Australian. Through his involvement in the Australian Country Music industry he has raised money for outback small towns, brings joy to thousands of Australians, he's helping to keep our history alive and stirs our national pride. 
Since 1998 with the release of his first Album "Steering Wheel Drovers" he has made a huge impression on the industry. As both singer and songwriter his name has become synonymous with top quality Australian ballads. Graham's song "You Can't Take Australia From Me" was recited at Slim Dusty's funeral by another great Australian, Dick Smith. What a great honour to be a writer for Slim as well as being chosen to be involved in his farewell. 
Graham has established himself as a much favoured performer with a highly developed natural flow. The quality of Graham's vocal ability portrays the conviction and the emotion with which he sings his ballads. He tells stories which encapsulates, you so you feel and live the stories he is telling.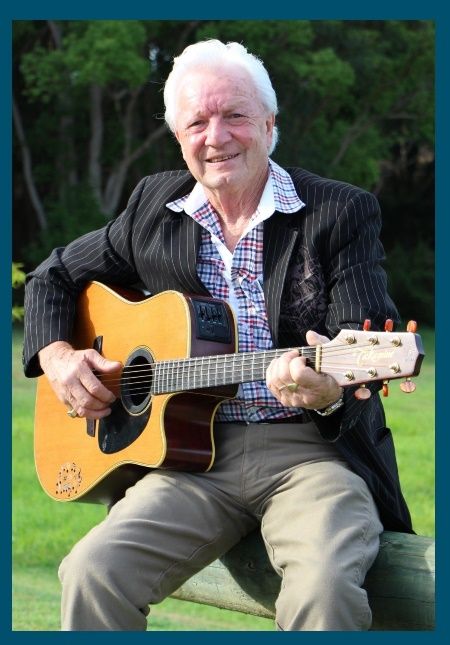 Walk Up Artist's Backing Band