Murgon Music Muster
The Murgon Music Muster is an annual event held over 6 days during the 1st week in November at the Murgon PCYC (Murgon Showgrounds) and proudly run by the small, but hard working, Rotary Club of Murgon. 
Now in its 9th year, a primary aim of the Muster is to bring music enthusiasts to our district to boost our economy and to showcase our region. To do this, the Rotary Club of Murgon find well known and emerging artists, many of them Golden Guitar winners, which also provides an opportunity for South Burnett locals to see these artists right on their doorstep. 
Each year the Muster has been gaining momentum and we focus on catering for Grey Nomads and day visitors. 
The Muster includes walk-up artists, poets, professional artists, aboriginal dancers, various stallholders and a bus trip to local attractions. The event is catered for by the Rotary Club including breakfast, lunch and dinner as well as a bar operating daily from Thursday to Sunday. 
The Muster is an indoor event so you do not need to worry about the weather. The facilities at the Murgon Showgrounds include; limited powered camping sites, un-powered camping sites, hot showers and a caravan dump point. We offer reasonable rates for our camping sites. EFTPOS is also available at the gate. 
Proceeds from the Muster are donated to local and regionally significant charities. Each year the Rotary Club of Murgon nominates at least two major beneficiaries who will benefit from the Muster. 
Beneficiaries from this year's Muster will include the Royal Flying Doctor Service, RACQ Life Flight Rescue and Toowoomba Hospital Foundation with other beneficiaries to be announced later in the year.  
The Royal Flying Doctor Service, Blue Care South Burnett and Southern Cross Care (Castra Retirement Home in Murgon) were the major beneficiaries from the 2018 Muster. 
Profits from the 2017 Muster were donated to the Murgon Palliative Care Unit for the purchase of a new alternating air mattress and a special chair for their unit at the Murgon Hospital. The second beneficiary was HeartKids, which is an organisation who helps young children and families affected by congenital/childhood heart disease through some hard times. 
In 2016, the Rotary Club of Murgon supported Beyondblue and Life Flight. 
The Rotary Club of Murgon relies on the generous help of the local businesses, community, volunteers and visiting patrons to successfully run this event each year. 
This year's Muster is set to be bigger and better than ever. 
The 2019 Muster starts on Tuesday 29 October with walk-up artists performing on stage until Friday morning, 1st November. On Thursday night we will have a great dance band, which will provide music for old time, rock'n'roll and line dancing. Following the official opening on Friday, our professional artists will perform on the main stage until late. Saturday sees our professional artists performing all day on the main stage. The Muster will conclude on Sunday 3 November with country and gospel music followed by Brownie's famous Charity Concert. 
4 Day passes and daily passes, including camping can be purchased from this site leading up to the Muster. Go to our TICKETS Page for more details.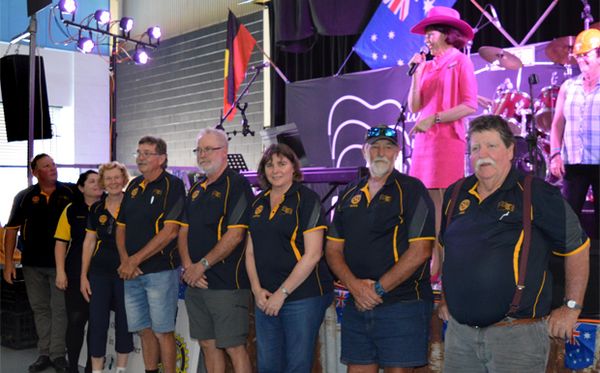 About Murgon
Murgon, so named from an aboriginal word meaning 'lily pond', is a small rural township located in the South Burnett region of South-East Queensland.  The Murgon district has a lot to offer with amazing scenery and so much to see and do. 
With a population of 2,000 plus, Murgon's attractions include wineries, the Queensland Dairy & Heritage Museum, fishing on the nearby Bjelke-Petersen Dam and gem-fossicking.  Local industries include peanut growing and production, dairy farming, beef and cattle production, dubosia farming, pulse and grain crops, wine production, a large tannery and the production of stock feed.   
The Indigenous Australian settlement of Cherbourg is just south of Murgon and has a marvellous Ration Shed Museum.  The nearby town of Wondai boasts a wonderful Timber Museum, a Heritage Museum and the Wondai Regional Art Gallery as well as several shops full of collectables. 
Murgon is located on the Bunya Highway approximately 245 kilometres north-west of Brisbane...just over 2 hours from city or sea.  
You can find your way to Murgon by travelling:       
·  the D'Aguilar Highway from Caboolture 
·  the Brisbane Valley Highway through Esk 
·  the New England Highway via Toowoomba to Yarraman 
·  the Bunya Highway via Dalby and Kingaroy 
·  the Wide Bay Highway via Gympie  
·  the Burnett Highway via Gayndah /Ban Ban Springs